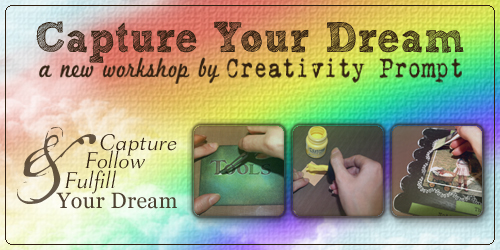 Capture your dream is a self paced workshop designed to help you identify your dream, capture it in a beautiful handmade mini-album and pave your way to make your dream come true.
In this workshop you will complete a mixed-media mini-album, which you will create from scratch with things you have lying around in your house or things you can find in your local craft or office supply store.
Each project is propped up by a pdf file with clear step-by-step instructions, packed with valuable tips and techniques and backed with supporting photos.
As always the inspiration and journaling prompts are going to make you think and ponder. You will get fantastic insights not only to your deepest dream but also to the means of making it happen.
Boosted with inspiration prompts, stimulating journaling and motivated by meaningful creative projects, you will capture your dream and follow it toward realization.


"Capture Your Dream" will show you…
How to make your own fabric covered and embroidered mini-album.
How to use different mediums for your album's pages (i.e. felt, transparency, cardstock and more.)
Different ways to include your journaling on your scrapbook pages.
Different ways to add layers, texture and interest to your layouts.
How to inject meaning into your projects with tactile and visual similes.
How to get chronological perspective through journaling.
How to communicate and work side-by-side with your dream.

and many more…
I am offering personal guidance and support to each participant on each step of the way, everything to make you feel like I am sitting right by your side.
Do you want to capture your dream in a significant and expressive way? Join now and get one step closer to making your dream come true!
The workshop is self paced. You will receive the first segment (Introduction & Supply List) immediately after registering.
The duration of the workshop is 6 weeks (5 lessons per week). That's 30 lessons delivered right to your inbox!!!
Format of the lessons – Downloadable pdf. files – including templates, instructions, supporting photos and supply list with live links to the products.
Price – USD49.95
Hurry up and register now to secure a place in the workshop. Unfortunately, I need to limit the number of participants in order to provide the individual attention each participant deserves.






P.S.: You are going to LOVE this workshop… OR your money back!


I am so confident you are going to love this workshop that I am offering you a full money back guarantee. If for any reason you are not fully satisfied with the workshop, just send me an e-mail and I will refund 100% of your purchase. No questions asked.
Frequently Asked Questions

Q: The workshop is pretty intensive what if I'm too busy for 5 lessons per week? OR I'm going on vacation soon and would miss some of the lessons.
A: No problem. The format of the lessons allows you to take them at your own pace, whenever it is convenient to you. You can take one lesson every day or take several lessons during the weekend or in an afternoon. I will still be available for you to answer questions and offer support.
Q: Will there be a special forum for the workshop's members? I'd like to connect with other members.
A: Absolutely. The workshop is going to have a private forum for its members and you are welcome to participate in it, ask questions, communicate with other members, share thoughts and even include links to your workshop related work. I will be active on this forum too.
Q: Will I have to buy special tools and supplies for the workshop?
A: As scrapbookers you probably have most of the tools and supply needed for the workshop. About 10 days before the workshop starts I will send each participant a complete tools and supply list.
Q: What if I don't like the workshop?
A: I cannot imagine this happening 😉 Now seriously, in case you are not happy with the workshop for any reason, drop me an e-mail by the end of the workshop and I will refund 100% of the purchase price.

Testimonials
"Sad not to be getting any more of your e-mails. I am still working on my mini album and will let you know when I post on my blog. Just wanted to let you know that I learned a lot of new techniques from your course. I don't like to sew, so I adapted those parts and did with paper instead. Also, I feel like I now have an organized plan for my dream which is one of the most difficult parts to do. Sometimes you just don't know how to actually begin to do something. Putting it down on paper helped me a lot."
"It was wonderful and I recommend it to EVERYONE! You are fantastic … always quick with a kind word … and help! Thanks so much!"
"Today I was looking through my childhood memories when my 12 year old daughter joined me. It was so nice to share these memories and my dreams with her. A wonderful side effect of the workshop!"