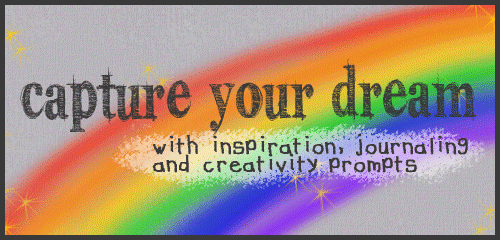 Only 24 spots are left in "Capture Your Dream" workshop. Register now and secure your place!
If you haven't yet heard about "Capture Your Dream" workshop, let me briefly explain what is the excitement all about:
As seen on Ali Edwards's blog, "Capture Your Dream" by Creativity Prompt focuses on helping you to bring your dream into reality rather than merely documenting it in a scrapbook. Nevertheless, your creative side will get pampered, as you will COMPLETE a fabulous mixed-media mini-album, which you will create from scratch.
Each project is propped up by a pdf file with easy to follow instructions, packed with valuable tips and techniques and supported by photos and printable templates.
Boosted with inspiration prompts, stimulating journaling and motivated by meaningful creative projects, you will capture your dream and follow it toward realization.

"Capture Your Dream" will show you…
How to make your own fabric covered and embroidered mini-album.
How to use different mediums for your album's pages (i.e. felt, transparency, cardstock and more.)
Different ways to include your journaling on your scrapbook pages.
How to inject meaning into your projects with tactile and visual similes.
How to get chronological perspective through journaling.
How to communicate and work side-by-side with your dream.

and more…
You are going to LOVE this workshop… OR your money back!
I am so confident you are going to love this workshop that I am offering you a full money back guarantee.
In case you are not happy with the workshop for any reason, drop me an e-mail up to the end of the workshop and I will refund 100% of the purchase price. No questions asked.
The workshop begins on July 20th 2009.
The duration of the workshop is 6 weeks, 5 lessons per week. That's 30 lessons delivered right to your inbox, that you can take at your own pace!
Format of the lessons – Downloadable pdf. files – including templates, instructions, supporting photos and supply list with live links to the products.
The workshop also includes a members-only forum.
Price – USD19.95

I am offering personal guidance and support to each participant on each step of the way, everything to make you feel like I am sitting right by your side. This is also the reason I am restricting the number of participants.